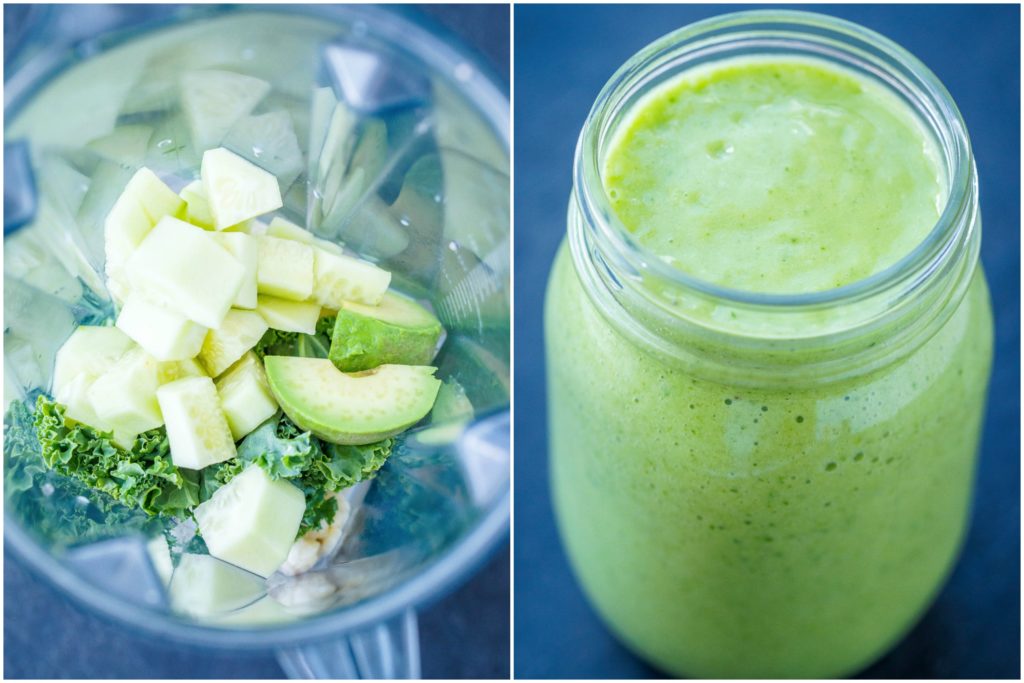 KALE AVOCADO CUCUMBER SMOOTHIE
(GREEN SMOOTHIE)
There are several ways you can make a green smoothie.  For mine I used kale, cucumber and avocado.  I also added a banana for sweetener.  This one isn't super sweet so you can add maple syrup, honey or dates to help sweeten it up if you like. SUPER SIMPLE!!!
---
Adding vegetables to your smoothie:  I probably wouldn't add lettuce to my smoothie but greens like spinach and kale work great for adding extra nutrition without too much added flavor.  I've never added cauliflower to my smoothie before but that seems to be a trend right now.  Zucchini also might be a nice addition because it's pretty tasteless but will add some nutrition.
Adding fruit to your smoothie: You can pretty much add any fruit you like to your smoothie!  I usually always add a banana to my smoothie because it acts as a nice sweetener while also helping to thicken it.  Then, after the banana I just use whatever fruit I'm in the mood for.  I really love making tropical fruit smoothies, berry smoothies and citrusy smoothies.
I love using frozen fruit in my smoothies because it makes them kind of like a milkshake and I love the thickness and coldness it adds.  I usually just buy bags of frozen fruit that's already diced up and it makes smoothie prep so easy!  If you don't use frozen fruit I would suggest adding in some ice just to make your smoothie a bit more refreshing.  It's totally optional though!
Yogurt is another great way to thicken your smoothie and can be a great way to add extra protein.
I usually use enough fruit to make my smoothie sweet enough for my liking, but you like want it even sweeter, you can add pure map
I prefer to use a high powered blender, like because it makes everything so nice and smooth and I love adding in ingredients like ice, nuts and seeds.
ADD IN IDEAS TO MAKE YOUR SMOOTHIE EVEN HEALTHIER!